If you haven't already be sure to check out my Review: Six of Crows by Leigh Bardugo
Synopsis:
After pulling off a seemingly impossible heist in the notorious Ice Court, criminal prodigy Kaz Brekker feels unstoppable. But life is about to take a dangerous turn—and with friends who are among the deadliest outcasts in Ketterdam city, Kaz is going to need more than luck to survive in this unforgiving underworld.
My Review:
"They don't know who we are. Not really. They don't know what we've done, what we've managed together. So let's go show them they picked the wrong damn fight."
The Six of Crows Duology is definitely my favorite books of all time right along side George R.R Martin's A Song of Ice and Fire series. Through out the whole book Bardugo had my heart racing. Of course there was never a dull moment. How could a story with Kaz Brekker ever be dull?
"Kaz had tapped his crow's head cane on the flagstones of the tomb floor. "Do you know what Van Eck's problem is?"
"No honor?" said Matthias.
"Rotten parenting skills?" said Nina.
"Receding hairline?" offered Jesper.
"No," said Kaz. "Too much to lose. And he gave us a map to what to steal first."
I really loved every single character so very much. I thought I loved them in Six of Crows, but in this book as I got to know them individually even more, I fell deeply for them.They are the most unique diverse characters I have ever come upon, EVER! I loved how there was more of Wylan's point of view in this book more and he really opened up, it was so awesome and adorable.
Have any of you wondered what I did with all the cash Pekka Rollins gave us?"
"Guns?" asked Jesper.
"Ships?" queried Inej.
"Bombs?" suggested Wylan.
"Political bribes?" offered Nina. They all looked at Matthias. "This is where you tell us how awful we are," she whispered.
I have not read the Grisha Trilogy, but there were a few Grisha in Crooked Kingdom from the Grisha series and they were so awesome as well. So very soon I will be reading Shadow and Bone. Heck, I'm going to read all of Leigh Bardugo's books! I can't wait for September for the Language of Thorns! Leigh Bardugo's writing style is amazing! I felt every emotion from every character, and could clearly visualize everything in the story.
"My mother is Ketterdam. She birthed me in the harbour. And my father is profit. I honour him daily."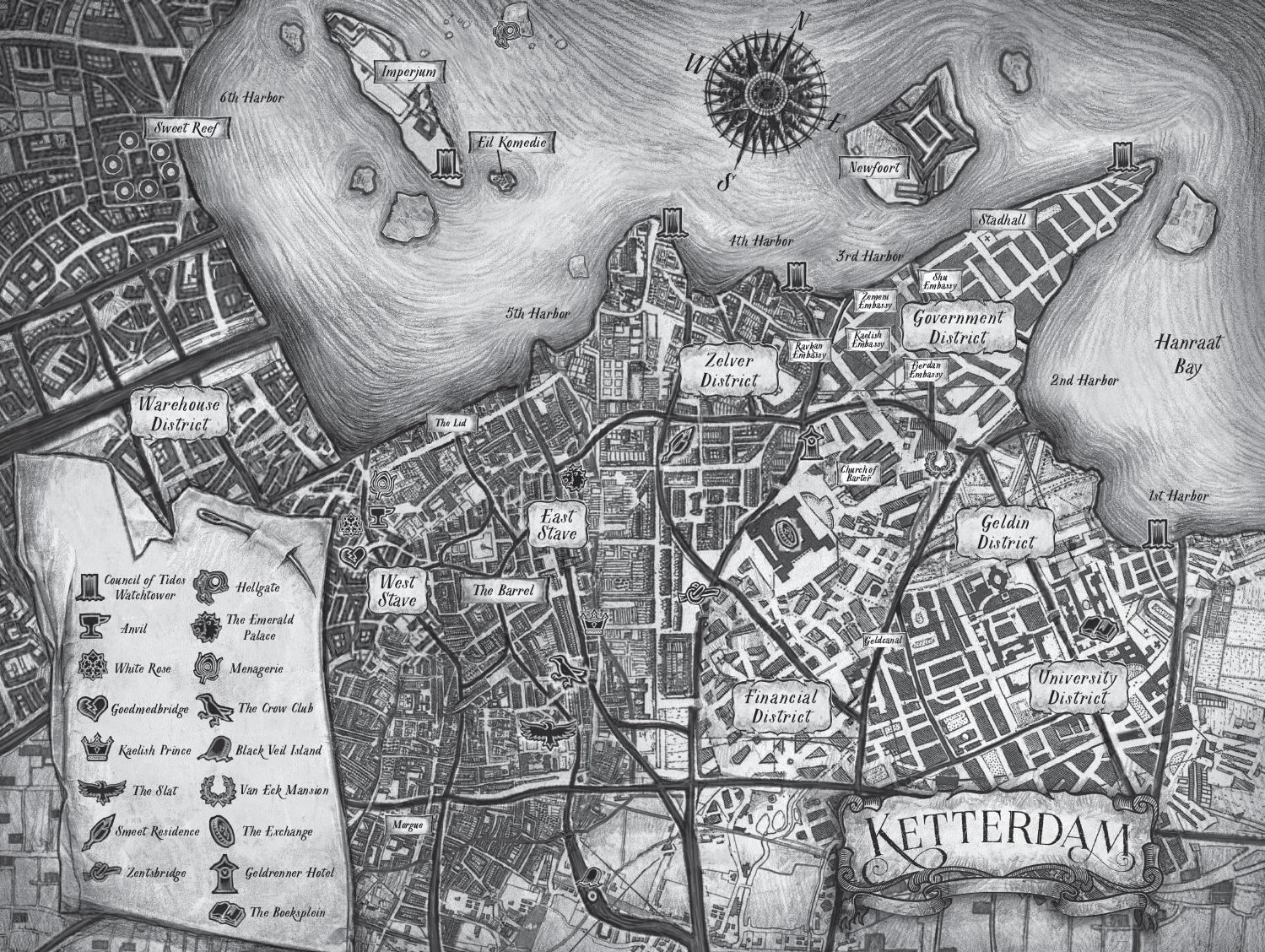 The ending of the story was great, but things are definitely left open for more stories! I am praying that Bardugo will add onto this series or at the very least give some of these characters their own books. I heard rumors that she will. I do hope they are true.
I actually cried through the last 50 pages of this book. I have never cried through 50 pages of any book before! Maybe one scene, but not 50 pages. I was literally reading it through blurry teary eyes choking out the words.
"I would come for you," he said, and when he saw the wary look she shot him, he said it again. "I would come for you. And if I couldn't walk, I'd crawl to you, and no matter how broken we were, we'd fight our way out together—knives drawn, pistols blazing. Because that's what we do. We never stop fighting."
I need more!
I need more Grisha!
I need more Ketterdam!
It was like saying goodbye to friends.
Two days later and I'm still thinking about how I can't believe its over.
I need more Kaz Brekker and his crew!
"Don't worry, Da. People point guns at each other all the time in Ketterdam. It's basically a handshake."
I'll forever want more of this amazing, magical, intense,mysterious, brooding story full of assassins and impossible heists, bad-ass charters fulfilling there duty of what they think is right! Any fan of Fantasy,Action,Magic and anything and everything dealing with awesomeness will love this series and I highly recommend it!
No Mourners, No Funerals!
❤
All Images found on Google!
I hope you enjoyed this review, if you have any questions or comments feel free to comment below! I'd love to hear them! ❤

Instagram-Critic_Uncritical_Bookworm
Twitter-The Booksih_Life
Goodreads-Critic_Uncritical_Bookworm
Tumblr-CriticUncriticalBookworm
Litsy- Critic_Uncritical_Bookworm